Local Law Society Bulletin 21 January 2022
Dear Colleagues

Welcome to the fourth edition of this bulletin, designed and developed exclusively for local law societies in England and Wales.
A new year, a new digital Gazette
January sees a big milestone for the Law Society Gazette with the publication of our first fully digital edition of the weekly magazine. You can now access even more expert analysis on all the latest legal news anywhere, at any time and on any device.



Read the latest edition of the Gazette magazine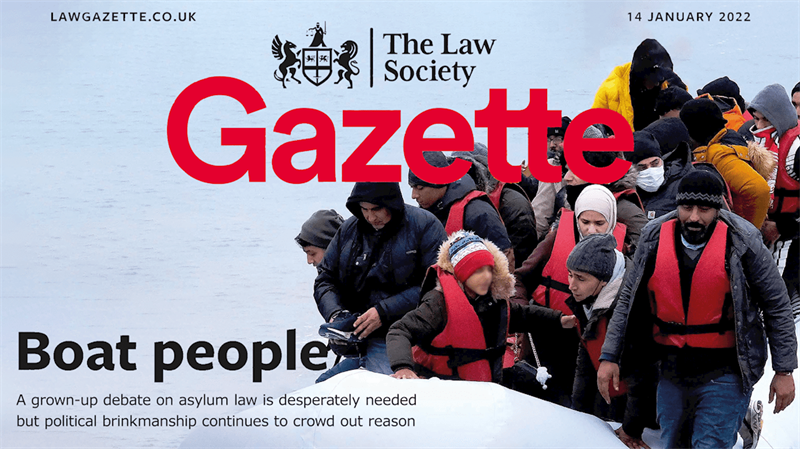 Becoming a virtual firm: challenges and opportunities

Lucy Scott-Moncrieff explores the different options available for those thinking of becoming a virtual firm and shares her tips for success.


Remote hearings

The coronavirus (COVID-19) pandemic has brought about a fast and widespread transition to remote hearings while participants cannot attend court or tribunal buildings. We've been monitoring the changes, expanding our pre-pandemic work on the government's court reform programme.


Coronavirus (COVID-19) interview protocol

We've worked with the Crown Prosecution Service (CPS), the National Police Chiefs' Council (NPCC) and other practitioner associations on a coronavirus (COVID-19) interview protocol.
This guidance aims to help investigators and prosecutors decide whether suspects should be interviewed as part of a police investigation during the coronavirus pandemic.


Long-awaited pay rise proposed for criminal legal aid lawyers

On 15 December 2021, a report recommending increased remuneration rates for criminal legal aid solicitors was published as part of an independent review chaired by Sir Christopher Bellamy.
"The recommended increase in remuneration rates demonstrates substantial progress in the right direction", said our president, I. Stephanie Boyce.

Read the review here.
Read more about our work on LASPO here.


Blockchain: legal and regulatory guidance (second edition)
We've published the second edition of our blockchain report, in collaboration with the Tech London Advocates (TLA) Blockchain Legal and Regulatory Group.
Over the past 18 months, the coronavirus (COVID-19) pandemic has accelerated the use and evolution of distributed ledger technology (DLT) such as blockchain.
Skip to the report

Topical Updates and News
Council statement on the Solicitors Indemnity Fund
The Law Society Council has issued a statement on the closure of the Solicitors Indemnity Fund (SIF), expressing our ongoing commitment to working with the Solicitors Regulation Authority (SRA) to facilitate an extension.
Read the update from the Member Engagement and Services team here.
---
Government acts on our calls for crucial investment in the justice system
Chancellor Rishi Sunak MP's autumn budget has delivered a shot in the arm for the justice system. We're pleased that the UK government has heard our calls for much-needed investment to address the courts backlog, invest in a sustainable civil legal aid market and help the justice system recover from the COVID-19 pandemic.
What the chancellor's autumn budget means for your business and practice
In the chancellor's autumn budget announcement, the UK government took a step in the right direction by reinvesting in the justice system. But what do the budget's tax changes mean for solicitors and their businesses?
---
Civil legal aid: a review of its sustainability and the challenges to its viability
The Law Society of England and Wales has undertaken a review of the civil legal aid system.
Download the report here.
---
Creating a climate-conscious approach to legal practice
As all eyes are on COP26 in Glasgow, there's never been a better time for the legal profession to take the lead in the race to net zero. We've published a climate change resolution outlining the role solicitors can play in addressing the climate crisis.
Read the resolution here.
Read what solicitors can do to help reach net zero here.
---
Nightingale courts status interactive map
In July 2020, the government announced that it would be opening 'Nightingale courts' as part of its court recovery plan to address the impact of coronavirus on the justice system.
We've created an interactive map which shows the location of open and proposed Nightingale courts, as well as the type of work being heard in these venues and the number of court rooms at each site.
---
Equality, Diversity & Inclusion
"It's not just a moral necessity, it's fundamental to how solicitors serve society"
Law Society president I. Stephanie Boyce joined Hillary Rodham Clinton, Microsoft UK's Clare Barclay and McKinsey & Company's Virginia Simmons to discuss women in leadership.
Good progress on LGBT+ equality and visibility but still much more to do
A landmark survey into the experiences of LGBT+ lawyers and LGBT+ equality in the profession, conducted by the Law Society of England and Wales, has identified significant progress – but more is needed. Download the survey here.
New guidance seeks to improve disability inclusion in the legal profession
Employers in the legal sector have today been provided with guidance by the Law Society and Cardiff University, outlining the reasonable adjustments firms and organisations could make to help them recruit and employ disabled staff. Download the guidance here.
Get involved
The In-House Annual Conference
Submit your ideas and expertise as a speaker to reach the wider in-house membership!
In 2022, we're holding a one-day in-person annual conference (11 May 2022) during our online In-house Week (7-13 May 2022). The conference is for all in-house counsel from private, public and non-profit sectors.
We are looking for speakers and content that focusses on developing skills according to sector-specific issues as well as broader shared themes. This is your chance to share innovative ways you and your team have been working and highlighting the challenges and issues in-house counsel face.
Don't miss your chance to contribute! Deadline to submit is Friday 19 November. Find out more here.
---
Discover connections on Law Society Connect | The Law Society
Join hundreds of fellow small firms that are already on our free digital small law firms community.
---
Please sign up to My LS to access tailored news, resources, events and books; it's free!
Event
Events
Please find below a list of upcoming events:
17 November – Legal Professional Privilege: developing law and practice
22 November – Legal Aid Crime Contract 2022 Tender – all you need to know
23 November – Embracing Disruption – The Future of Work
7 December – Judicial appointments interview training for solicitors – webinar
14 July 2022 – Save the date – Presidents' and Secretaries' Conference 2022
Resources
Practice Notes
File closure management – sets out good practice for managing file closure at the termination of a matter and the need to manage risks inherent in the mismanagement of file administration.
Making gifts of assets – on transferring property or investments to next of kin, family members or friends before death, as a means of planning for future care or to reduce liability to tax.
Conflicts of interest – This practice note sets out guidance on identifying and managing situations where a conflict of interests arises, or there is a significant risk of a conflict of interests occurring.
Closing down your practice: regulatory requirements – outlines the regulatory requirements to consider when closing down your practice.
Recorded Events
Junior Lawyers' Division Forum – Helping you to secure a training or newly qualified position – 11 September
• Part 1
• Part 2
• Part 3
• Slides
Further recorded events can be found here.
Sections
• Business management
• Regulation
• Property
• Private Client
Paid subscribers can also access exclusive content and updates on law firms management, risk & compliance, property and private client law.
This is a service message from the Law Society. View our privacy policy. To unsubscribe from this type of email, click here. To opt out of all Law Society email please contact us at TheSupportCentre@LawSociety.org.uk or on 020 7242 1222.
Address: The Law Society, 113 Chancery Lane, London, WC2A 1PL. Tel: 020 7242 1222